Showcase #4
€605
Description
Specifications
Sustainability
Showcase#4 is the reduced version of Showcase#1 – same sculptural lines but minimized dimensions in order to bring the timeless look to even the smallest of spaces. Showcase#4 is, like the bigger varieties, bent from one piece of aluminum. The shelf is entirely without clumsy welding or visible suspension.
Showcase#4 can be included in numerous combinations and across multiple styles – the sky is the limit, and the use of Showcase#4 is up for interpretation and further development.
Design: Anne Linde
Color: White
Material: Powder coated steel
Dimensions: H 1138 x w 230 x D 237 mm
Weight: 4,8 kg
The powder coated aluminum is long-lasting, and the surface is durable, resistant towards dents, scratches and bruises. Lasting design requires lasting materials, and the metal will stand the test of time and trials of life. The pure aluminum can furthermore be fully recycled which means that Showcase#4 is gentler on the planet.

Showcase#4 is storage that you can keep for many many years; timeless design, durable materials and endless possibilities. Just like the rest of the shelves, Showcase#4 is a visionary solution to practical needs – now and in the future.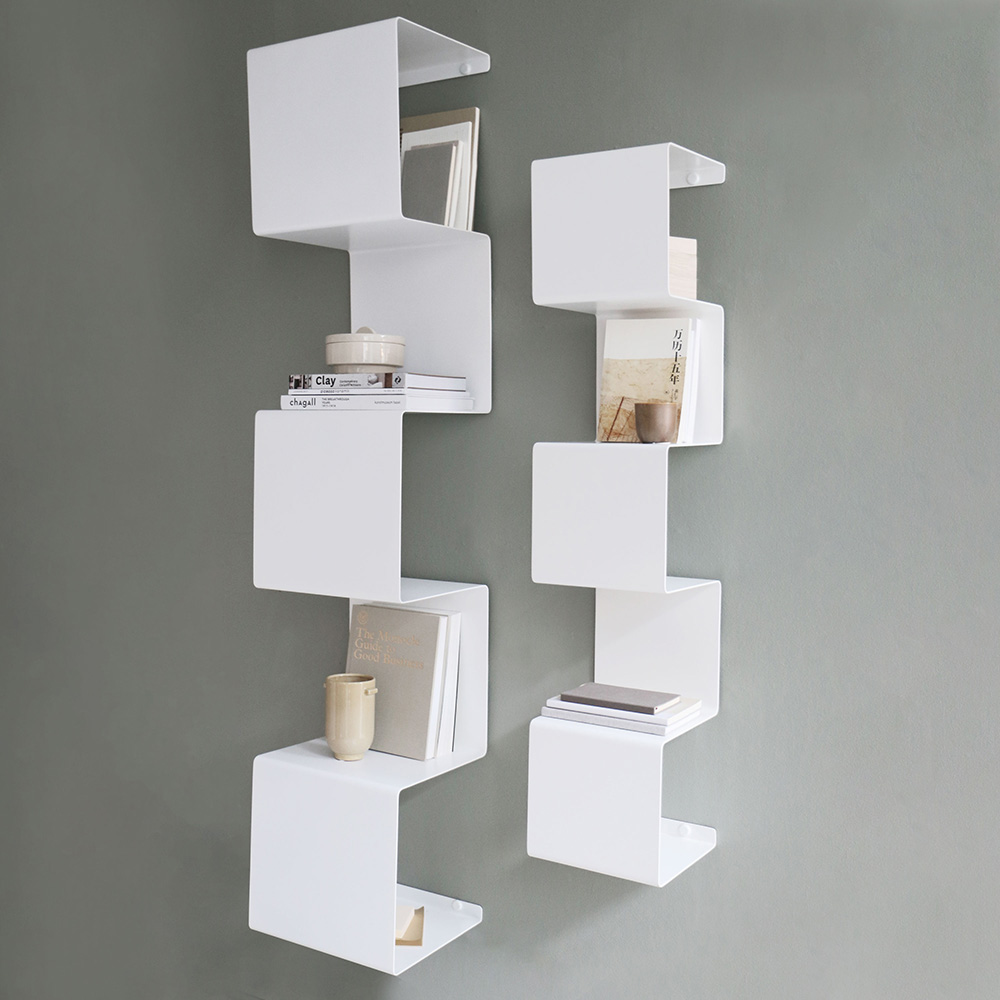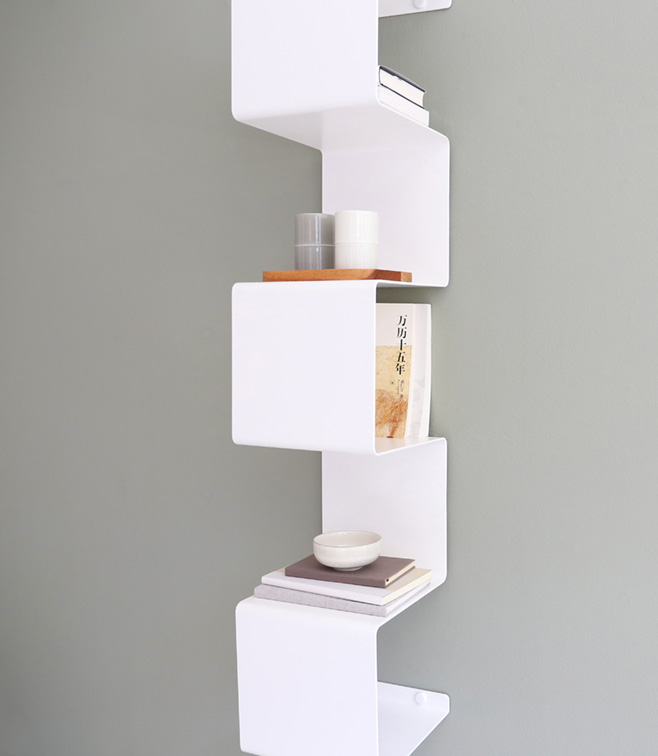 Designed around geometric archetypes
Showcase#4 has been designed around geometric archetypes but with rounded corners that allow the energies to flow freely.

The light design language allows Showcase#4 to be included in multiple settings and either takes center stage as a sculptural element or recede into the surroundings depending on your specific combination and space.

The showcase series has been designed to stand out so that your décor and objects can too. Create unique combinations and add a bit of your own magic for a sublime result. Get inspired by the innovative approach to organization and storage and prepare your décor for continued change and development.
Explore the possibilities
Showcase #4 can - with the more petite dimensions fit into even the narrowest of spaces. Get use out of that odd corner or finally bring organization to your tiny desk area. No matter the space, Showcase#4 will let you have the necessities nearby – whichever those are (expansive collection of soaps? That can be a necessity!).
Avoid the limitations of conventional storage and instead play with the possibilities of hiding and displaying within the minimalist lines of Showcase#4.

You will discover that Showcase#4 is not fit for a single space alone but can be moved around your home and find itself a new beautiful and useful spot – over and over again. Showcase#4 is, like the rest of the collection, flexible and useful in multiple styles and environments. Combine with the other Showcase shelf to keep the clean lines going or include it in an eclectic mix. Showcase#4 develops with you and unites form and function. Whether Showcase#4 is a light sculpture or a dutiful workhorse is up to you!

Use it in the living room for books or decorative objects, in the kitchen for mugs and cups, bathroom for the beauty routine, kids' room for stuffed toys or in the atelier for bits and bobs.