Sheet
€ 99.00
Description
Specifications
Sustainability
Sheet is a pane of perforated steel. Extreme simplicity at its best; everlasting shape that in combination with Oak Ball and Hook can fulfill multiple functions. With Sheet, the material has the leading role in its straightforward approach to form, as form and function become equals. Sheet is the timeless bulletin board; everlasting design and infinite possibilities.
Design: Anne Linde
Color: White, anthracite
Material: Powder coated steel
Dimensions: H 600 x W 450 x D 10 mm
Weight: 3 kg
The powder coated surface of the perforated steel makes Sheet resistant to wear and tear. Sheet will rarely get a scratch and is always easy to clean with a damp cloth. Therefore, Sheet is not only a great solution now, but it will also last for many many years. Even as your needs or spaces change due to the high level of flexibility and possible combinations. Explore and expand as you please.
When the color palette of your space changes, Sheet can be re-coated for a fresh look.
Sheet is made from 100 % steel, which can be fully recycled – again and again. In other words, Sheet can be re-coated, re-cycled and re-interpreted over and over again, for the sake of the future.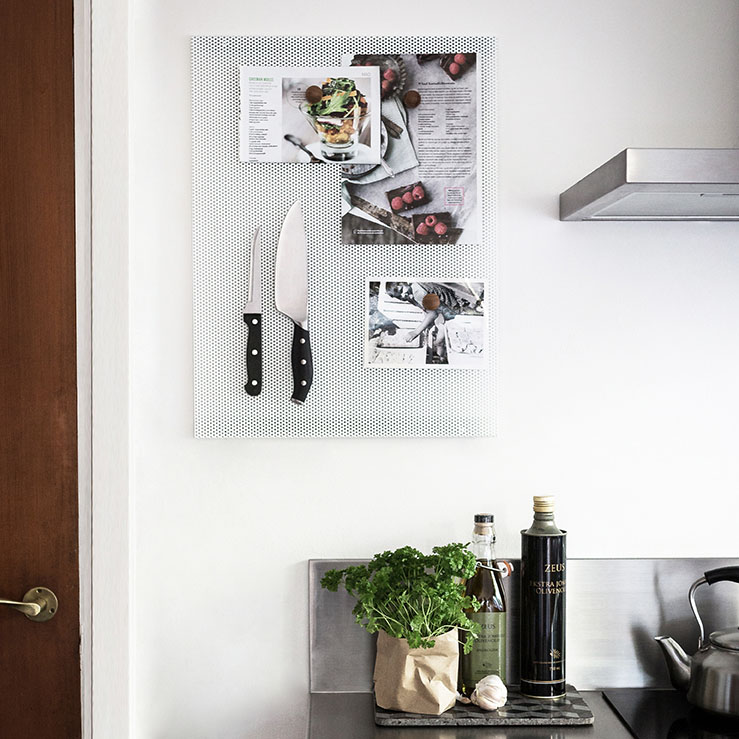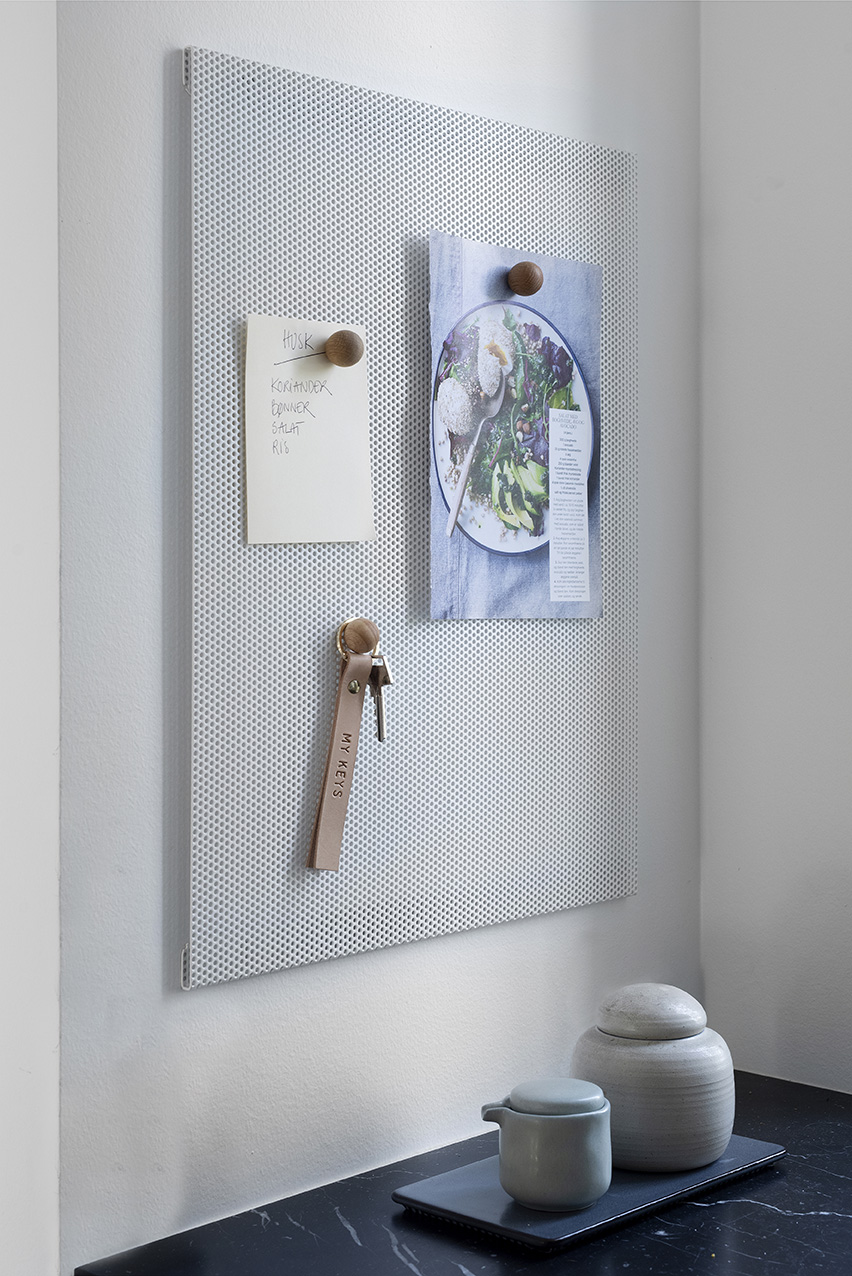 Beautiful in its simplicity
The look of Sheet plays with contrasts; the perforated pattern on the surface adds a transparent element to the otherwise solid metal. The rounded edges at the top and bottom hide screws but also add a softness to the shape. The shape adds lightness and refine the steel.

Sheet grounds innovation in lasting materials. With the simple shape you can experience the freedom to create a new and creative solution – without the conventional limitations.

With Sheet and the other furniture and shelves from the Anne Linde collection, functionality and practical needs are combined with unique design – and the result is storage, display and organization that inspires.
Explore the possibilities
Put up a single Sheet for ultimate simplicity. Or fill a whole wall to create the bulletin board of your dreams – no matter the amount of space or the character of your needs, Sheet is an expansive solution that you can continuously expand and develop. Forget everything about conventional bulletin boards and let Sheet be the creative frame for your projects.
Sheet is the bulletin board of the visual thinker without limitations. When you run out of space, just add another and continue your process!

The Oak Ball magnets are the ideal partner in crime with their warm wood, creating a slight contrast to the clean metallic surface of Sheet. Create your mood board or keep your important papers in place.

Use a Ledge shelf underneath to always keep your tools nearby. Or put up Sheet next to one of your Showcase shelves to combine storage and inspiration. Add one or more of the magnetic mirrors and Hook and use Sheet in the bathroom or hallway.

Sheet is a unique opportunity for creative exploration – never predictable, always inspiring.