Showcase #1
€615
Description
Specifications
Sustainability
Showcase#1 is a different kind of storage, without the conventional limitations; its use still up for interpretation and eternal exploration.
Thanks to the sculptural form, you can play with the option of both hiding and displaying items, whether it is a collection of artbooks, the necessities at the entrance, or the exhibition of a rotating collection of unique sculptures.
Bent from one continuous sheet of aluminum without any unsightly welding or visible hanging devices. The aluminum makes Showcase#1 durable and recyclable.
Design: Anne Linde
Color: White
Material: Powder coated aluminum
Dimensions: H 1638 mm x W 325 mm x D 290 mm
Weight: 12 kg
The surprising and sculptural shelf has cleverly been bent from one single sheet of pure aluminum. The aluminum is durable and will last you a lifetime without taking on many scratches, dents or other signs of times passing.

The shelf can be re-coated, either just as part of a refresh or as a total transformation; desire a completely different color? Just have it re-coated.
The flexibility and versatility of the shelf mean that Showcase#1 can keep up with your developing ideas and desires and ensures that Showcase will remain relevant to your décor. Explore the many options of customization and invest in a piece that is almost impossible to wear out – for the future of the planet.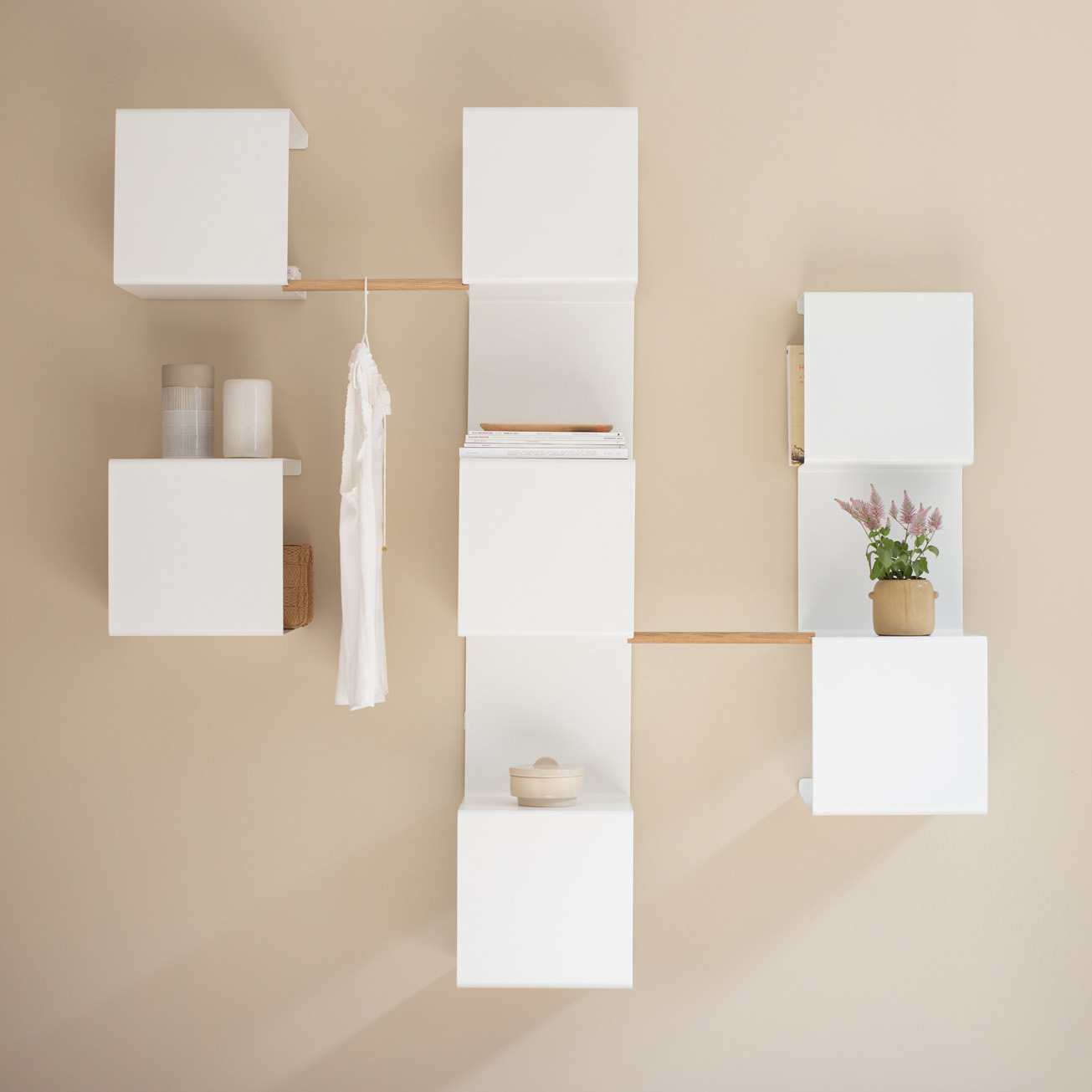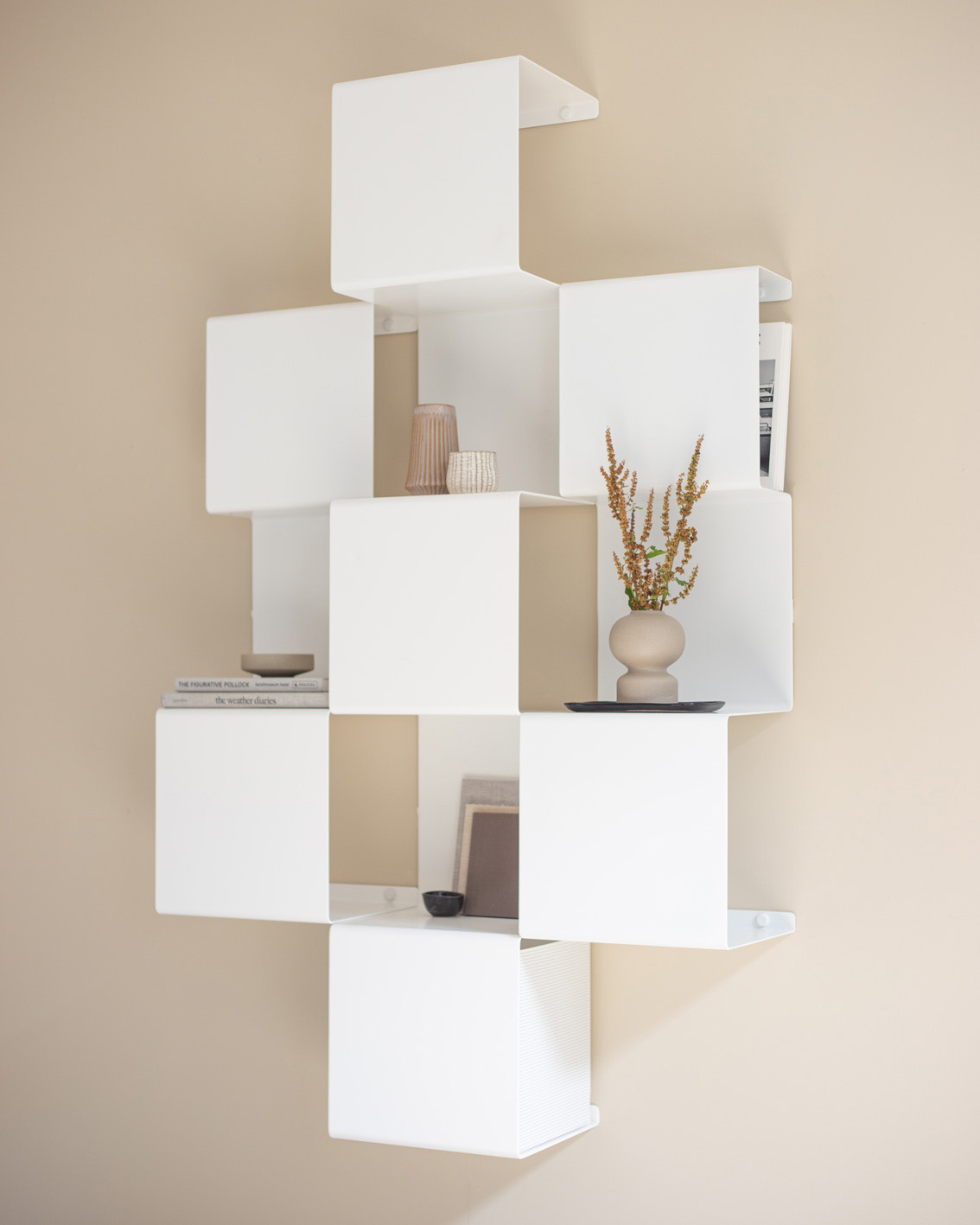 Beautiful in its simplicity
By creating the illusion of a floating shelf, Showcase keeps its lightness in the most beautiful way and represents a twist to conventional storage, no matter what you fill it with.
And don't be fooled by the airy expression, a single Showcase#1 can keep up to 40 books and still leave plenty of space for exhibition. Whether you use it as a shelf, cabinet or sculptural wall hanging, Showcase#1 is the furniture in which functionality and practicality are no longer boring.
Storage and organization for the visual and creative mind
Within Showcase#1, Anne Linde has brought together both the act of hiding away and displaying in one piece of furniture, giving you the possibility to create both artful and creative storage on any wall.
Use it in the bedroom, the hallway, the kitchen, living room, greenhouse, attic or atelier – on its own, in combination with Oak Ball magnets and other accessories, or together with other shelf designs from the collection.

Depending on what you fill it with, Showcase#1 can either be the hiding place for many wonderful items, or a minimalistic exhibition space for your most priced possessions. One thing is certain: the development of your needs are unpredictable, and the versatile design of Showcase#1 can keep up when your desire for change turns into real transformations – in your life and home.

The combinations between multiple Showcase shelves, accessories and the other design from the collection allow you to create the most suited solution. Fill a whole wall or utilize the odd space between two doors.

Showcase#1 is storage and organization for the visual and creative mind; devoured of the conventional limitations and boundaries, instead open for interpretation and exploration within your home – and always ready to be included in a new context.