Ledge:able
€95
Description
Specifications
Sustainability
Beautiful in its simplicity, Ledge:able is the versatile and sculptural chameleon that can be included in any frame; from a high-end showroom to tiny cottages. Bent in powder coated steel and therefore magnetic and durable.
Ledge:ables profile consists of one simple line that in the shelves three-dimensional form creates more storage and exhibition than the airy look reveals.
Designed to ensure that things you need is always right where you need them; but with the added freedom to decide what is hidden and what is displayed.
Design: Anne Linde
Colors: White, black, greyish blue, anthracite, light clay, dusty green
Material: Powder coated steel
Dimensions: H 330 x W 250 x 230 mm
Weight: 2,5 kg
Steel is a recyclable material, allowing Ledge:able to be reused in a new cycle once its time is up. But the timeless design and the many opportunities for customizations ensure that recycling is only relevant into a distant future.
The powder coated steel is scratch-proof and durable so time will leave almost no marks and signs of wear and tear. Ledge:able can therefore be used for many years to come.
Furthermore, the steel can be re-coated, stretching the durability and promises for creative expression that the shelf allows. In other words, there is plenty of unexplored potential.

Ledge:able is part of a genre of furniture that does not cater to the fast-paced consumer culture of now. Instead, it has been designed to keep up with you and the development of your life.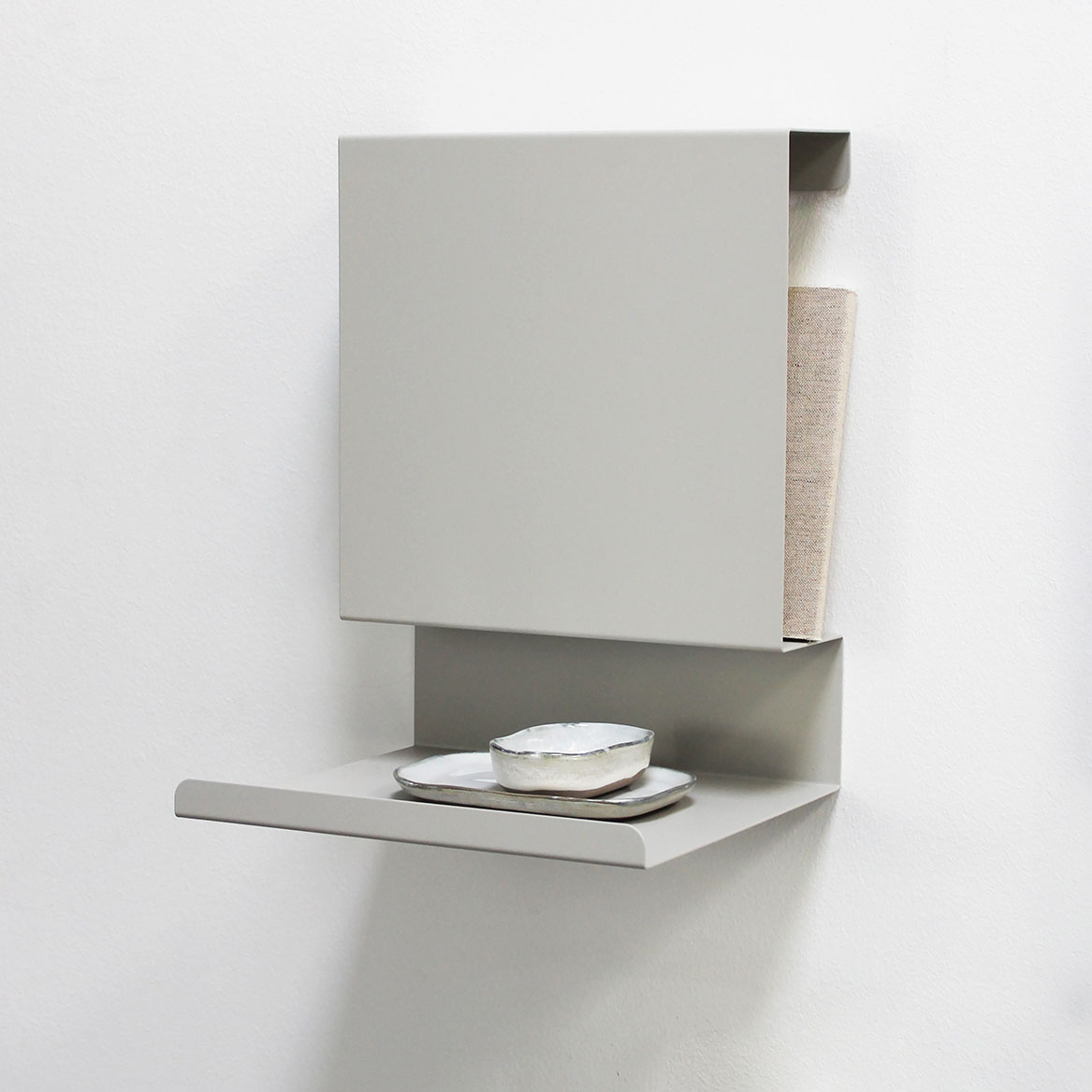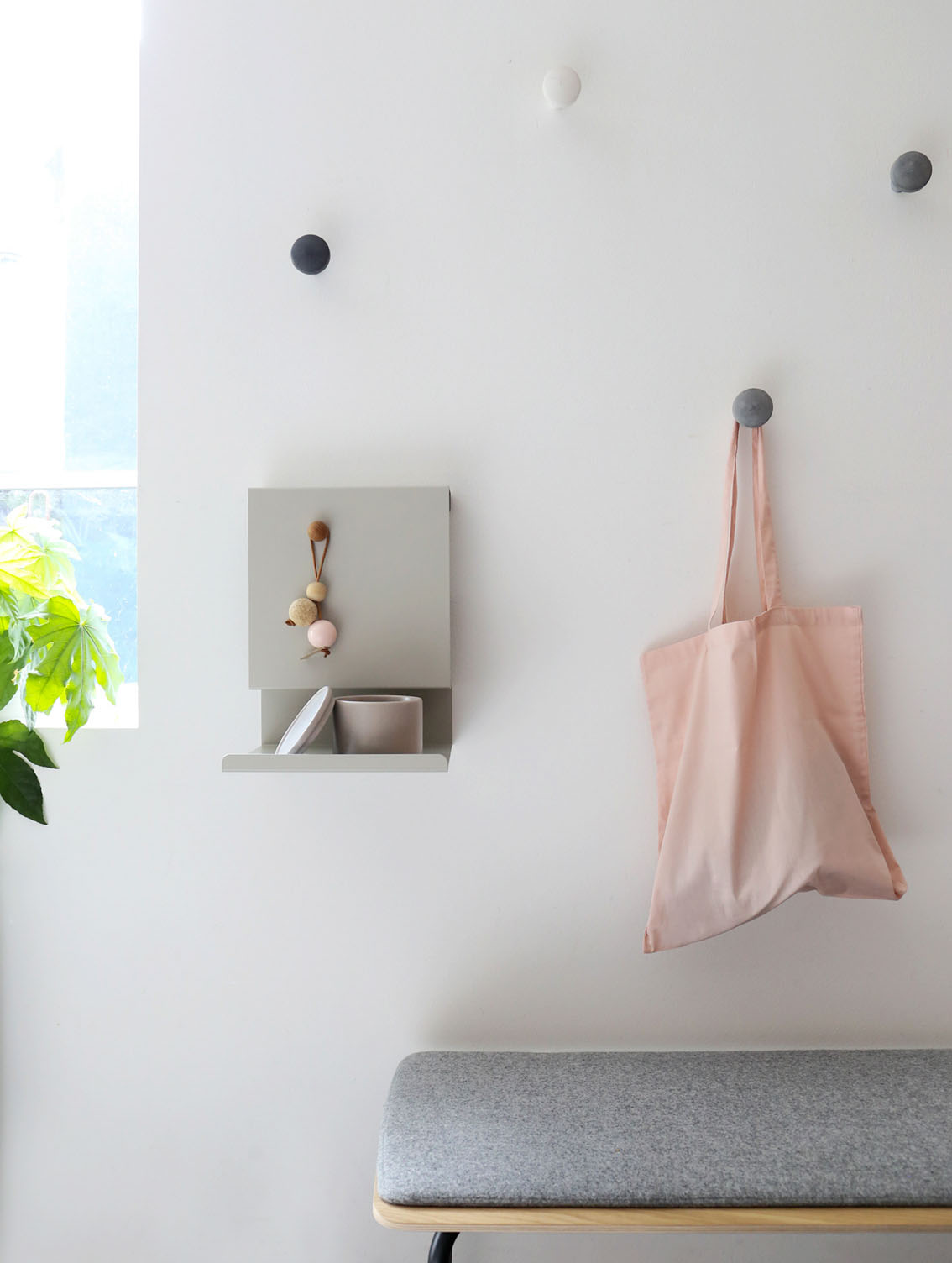 Beautiful in its simplicity
Ledge:able has been molded from one continuous piece of steel, and is therefore without any visible welding, and the suspension point where you put the screw is almost invisible when the shelf has been hung.
The unbroken line from which the shelf's profile has been drawn, hides more storage in its three-dimensional rendering than one would expect. The look furthermore keeps a light and well-organized look even when full.

Choose between six colours and imagine the shelf either standing out or blending in with the wall – completely dependent on your choice.

Ledge:able is simple and visionary design that allows you to get creative with how you organize and present the items in your home. Ledge:able's design language is simple and borrows elements from futuristic fantasies, but with rounded corners adds an organic warmth that allows the energies and creativity to flow.
Explore the possibilities
Ledge:able is both a shelf and a bookcase, a key cabinet and a nightstand. Ledge:able is storage and exhibition for your space without the usual limitations, always open for reinterpretation and expansion.
Even though Ledge:able is a favorite to ensure you have somewhere to put a glass of water and your book at bedtime, the use of Ledge:able is almost endless. Coffee station in the kitchen? Next to your easel for the essential brushes? Or in the bathroom for your beauty routine?

Your solution can be customized with accessories; let cork transform your Ledge:able into the perfect home for keys and other bits and bobs or let a magnetic mirror transform Ledge:able to a station for last-check-before-leaving. Ledge:able can be both a remember-this shelf or a my-favourite-collection-of-dishware shelf. Or any other kind of shelf.

Play with the expression and explore the possibilities.