Hoop
€40
Description
Specifications
Sustainability
Hoop is a loop of steel. In combination with Showcase #0 and #3, Hoop becomes the elegant solution to the need of an extra clothes rack – for clothes, hand towels or any other hangable item.
The rectangular shape with rounded corners is an extension of the lines of the Showcase shelves, and Hoop will therefore visually become one with your unit – a combination of aesthetics and functionality that does not renounce either.
Hoop is made from pure steel and is therefore durable, re-paintable and recyclable.
Design: Anne Linde
Color: White
Material: Powder coated steel
Dimensions: H 100 x W 354 x D 16 mm
Weight: 0,5 kg
The surface of Hoop is durable and resists wear and tear, making it perfect for an active lifestyle. Hoop can therefore, like the shelf it is mounted on, last many years into the future. The timeless design and the many possibilities of usage and customizations ensure that Hoop remains relevant in your interior. Should you tire of the color it can be re-coated for a fresh look.
Hoop, in all its combinations, resists the fast-paced consumer culture of today and aims instead to be timeless; through design and durability.

The pure metal furthermore ensures that Hoop can be fully recycled and become part of a new circular system.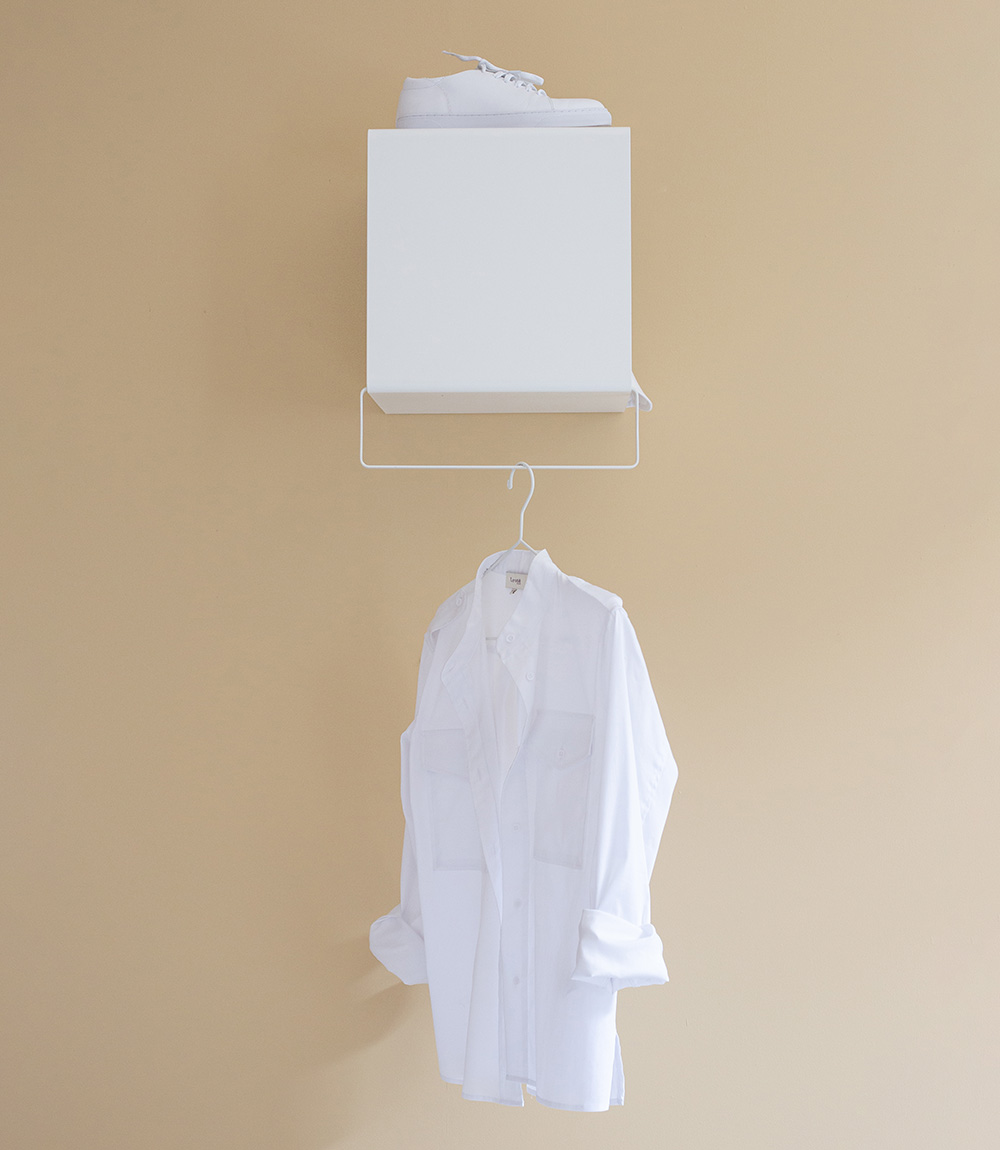 A new twist to an old friend
Hoop is a unique extension of Showcase #0 and #3 that likewise expands the use of the shelves to include the space beneath them.

Hoop is a new twist to an old friend. The design is visionary as it combines lifting the heavy tasks of effective storage with a light and airy expression. With Hoop and the other accessories and shelves you are never stuck in old habits; let the solutions expand and develop as you do. The designs from Anne Linde's collection pushes the boundaries of the Danish design tradition in order to create practical and functional solutions without the conventional limitations.

Hoop contains a playful maturity that allows for creative exploration in your home while solving the practical challenges of life.
Explore the opportunities
Just like Mirror Round, Hook, Mat Leather and the rest of the accessories, Hoop gives you the opportunity to play with the solutions. Adjust the practical circumstances without giving up on style. Be creative with the different elements, combine them in a multitude of ways, expand and develop as you go – and make the solution entirely your own. Add a bit of your magic for a truly sublime solution that will continue to inspire you.

Hoop has been developed specifically for Showcase #0 and #3 and fits therefore perfectly underneath them. Combine multiple different shelves from the collection and add Hoop to take ultimate advantage of the space underneath them. Whether it is for clothes, towels, tea towels or something completely different is entirely up to you!

Use Hoop in the living room, bedroom, closet or anywhere else for storage, organizations and exhibition – right where you need it.