Combination #9
€458
Out of stock
Description
Sustainability
Composition 9 is the very simple, elegant and practical solution for the wardrobe, hallway or kitchen. With Composition 9, you get an exciting take on storage for the busiest places; three simple elements in a beautiful and well-designed version.
Showcase#0 is the basic form of shelves and storage, a form that allows you ultimate creative freedom. The timeless cube, but here with slightly rounded edges and in interplay with the warmth of the solid wood of Hang:able. A more organic twist on a favorite.
Showcase#0 is bent from a single piece of pure aluminum and hung in a way where you can not see the screws.
Hang:able is mounted via two simple lines at each end – in other words, Composition 9 is a beautifully simple solution that is flexible and easy to move, over and over again.
Composition 8 consists exclusively of materials that can be recycled - namely powder-coated aluminum with Showcase shelves and solid oak with Hang:Able.

As you know, pure wood is a completely natural and durable material. The wood ages and changes subtly in character over the years, while the powder coated surface of the aluminum is scratch-proof and durable. With the right care, the three elements of Composition 9 can last for many, many years without visible wear.
The metal shelves can be easily repainted to follow your creativity and aesthetic needs in the future.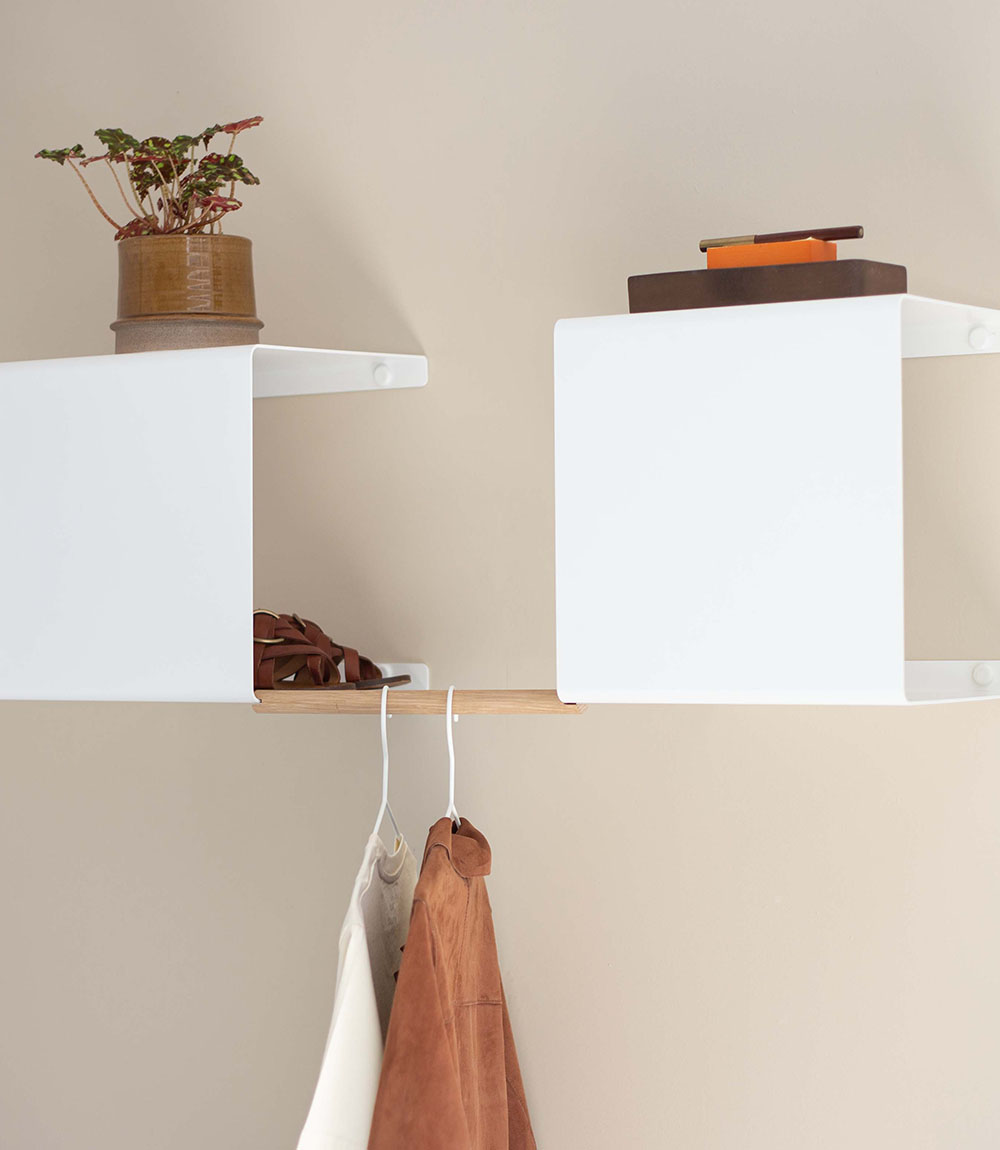 Designs from Anne Linde expand and push the boundaries of the Danish design tradition, to a place where practice and functionality are no longer boring.
The design combines lifting heavy tasks in the form of efficient storage without sacrificing the light and airy look.

Showcase#0 is deceptively simple, but with the details and solutions needed to create a beautifully designed result. The shelf contains a playful maturity that allows creative expression in the home and at the same time solves the practical challenges of everyday life - and both function and form are elegantly complemented by Hang:able.

With Composition 9, you never get stuck in old patterns and habits; the elements can instead be moved and expanded to suit you, your ideas and dreams.
Explore the possibilities
Art and design combined with versatility and durability to ensure that you can both hide away and show off, regardless of your needs - now and in the future.
Where could you use a little extra storage or organization? What about that wall where you have seen some exciting opportunities? Or where you always long for a little extra space to put what you need? Composition 9 fits there.

With the two Showcase#0 next to each other, you get a surprising number of options - and Hang:able in between to maximize the space and utilize the space between them. All without compromising on style.
Whether it is in the children's room, in the living room, in the office (the dimensions make it ingenious for paper organization, for example), in the work-out room or the creative space. In other words, Composition 9 can be included in all interiors and across styles.