Combination #8
€1707
Available on backorder
Description
Sustainability
Composition 8 is an exciting extended storage solution. With the iconic Showcase#1 as the core and starting point for the combination, but with the twist from Showcase#3 and the asymmetrical composition that follows. As Composition 8 contains both two pieces of Showcase#0, Hang:able and the soft bends and varying depths from Showcase#3, you get the absolute greatest freedom and plenty of opportunity for an exciting and unexpected solution. And plenty of solid storage.
Does the wardrobe need an upgrade or the studio needs some reorganization? Composition 8 is created to give you the optimal freedom – and lots of curved elegance from the bended metal elements.
Composition 8 consists exclusively of materials that can be recycled - namely powder-coated aluminum with the Showcase shelves and solid oak with Hang:Able.

As you know, pure wood is a completely natural and durable material. The wood ages and changes subtly in character over the years, while aluminum is durable and the powder-coated surface scratch-proof. You can therefore keed Showcase for many, many years without visible wear. The shelf can easily be repainted so that it can continue to follow your creativity and needs in the future.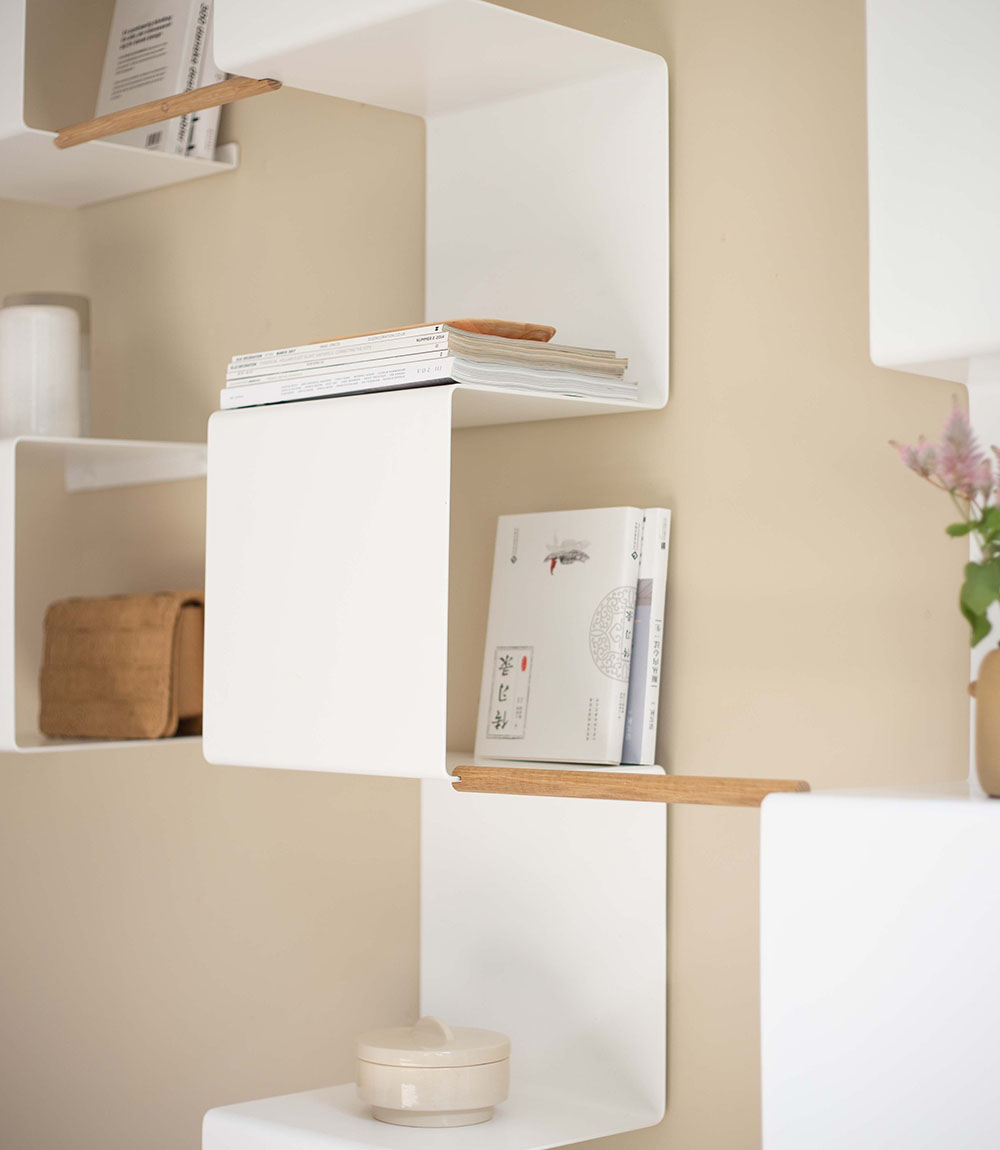 Showcase#1 is bent from one continuous piece of metal, without unsightly joints and visible suspensions. The aluminum makes Showcase # 1 durable and recyclable.

Showcase#3 is the asymmetrical version of Showcase#1. The same flowing line shapes the metal, but the difference in the depth of the shelves offers new possibilities.

Showcase#0 is a new twist to an old element - A cubist archetype with organic rounding that keeps the practicality of the square but combines it with the calmness of the organic forms. Light, practical and beautiful - and Hang:able connects the three Showcase shelves, via a simple cut at each end of the wood, ensuring that it is easy to assemble and easy to move again and again.

Whether you see Composition 8 as a bookcase, shelf, display cabinet or sculptural wall mount, the shelf system is the furniture where practicality and functionality are no longer boring.
Explore the possibilities
Composition 8 is a flexible solution that ensures sculptural and clear-lined storage and organization.
Use the space between two shelves to create an extra mini-wardrobe in the bedroom or some exciting storage in the kitchen. With the addition of Showcase#3 you can also let objects extend across shelf levels.

The lines let you both show off your most beautiful objects and hide the boring ones to create exactly the look you are looking for. The imagination can run free so you can combine and put together your solution - without being suffocated by practical considerations and tedious limitations associated with conventional storage. Because despite the light look, the Showcase series can hold surprisingly much and their simple look leaves them their use for continued development and interpretation.

Assemble as it suits your space, and move around or expand as your needs change.