Combination #6
€2078
Available on backorder
Description
Sustainability
The shelving system that brings lively elegance to your wall – Composition 6 really brings the unique aspects of the shelves into play, and allows you to combine creative aesthetics with smart solutions. Composition 6 consists of two of the iconic Showcase#1 shelves, combined with two Showcase#0 and two pieces of Hang:able for flexibility and beautiful use of the airy aspects of the shelves. With Composition 6 you can store a lot, while maintaining the light look. Don't restrict yourself with large shelves and clumsy systems. Instead, enjoy the freedom and flexibility of the beautiful elements in Composition 6.
The Showcase series is cubist in its basic forms, but with beautifully rounded corners and bends that add something soft and organic to the clean lines.
Composition 6 consists exclusively of powder-coated aluminum with the Showcase shelves and solid oak with Hang:Able. Aluminum is a durable material. You can therefore keep Showcase for many, many years without visible wear and tear. The shelf can easily be repainted so that it can continue to follow your creativity and needs in the future.

As you know, pure wood is a completely natural and durable material. The tree ages and changes subtly in character over the years. Both wood and aluminum can be recycled and be part of a new circular process.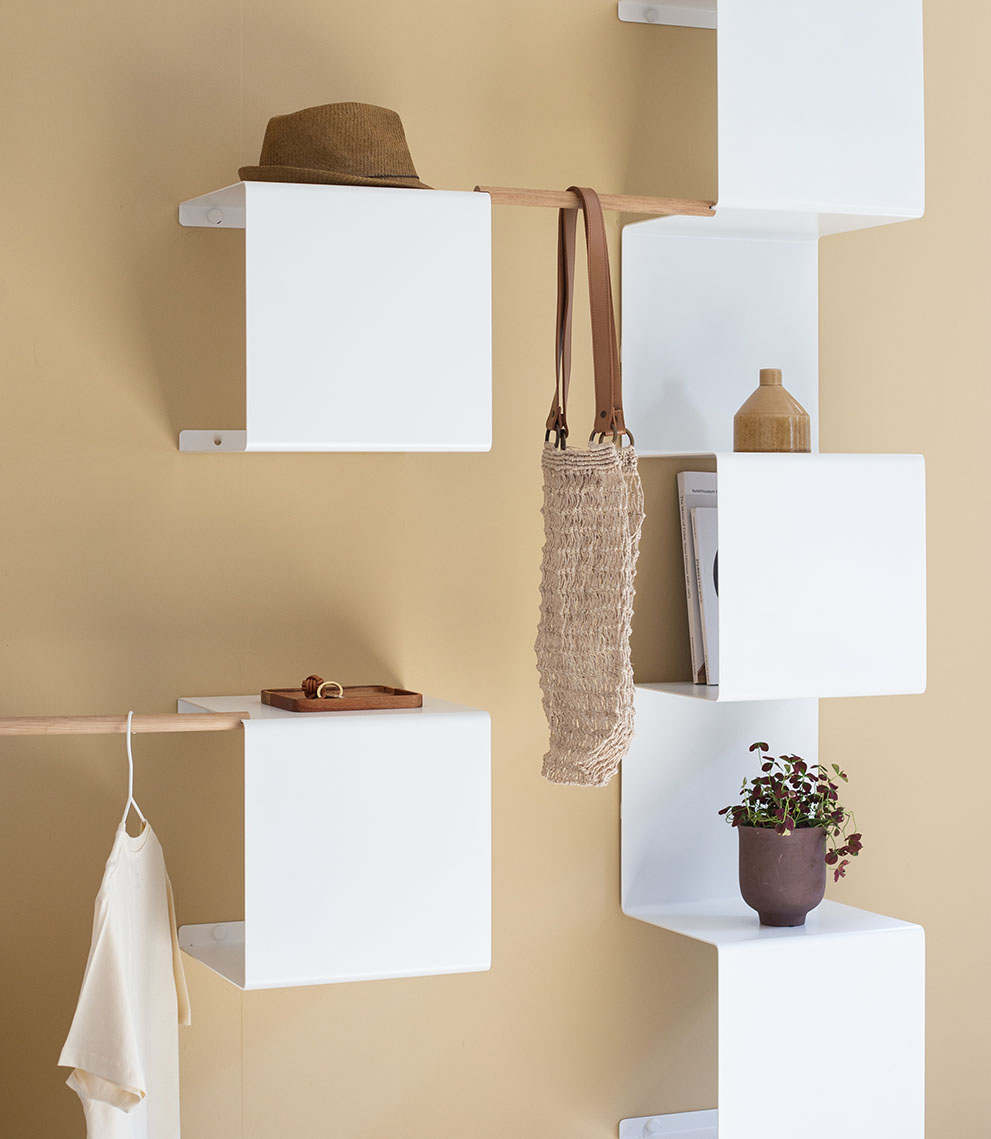 Showcase # 1 is bent from one continuous piece of steel, without unsightly joints and visible suspensions. The steel makes Showcase#1 durable and recyclable.
Whether you see it as a bookcase, shelf, display cabinet or sculptural wall mount, Showcase#1 in combination with Hang:Able is furniture where practicality and functionality are anything but boring.

Showcase#0 brings a new twist to a classic - a cubistic archetype with organically rounded edges that combines the practicality of the square with the calmness of the organic forms. Light, practical and beautiful.

Hang:able has a simple cut at each end that ensures it fits perfectly between two Showcase shelves. Easy to assemble and easy to move, again and again.
The cylindrical shape of the Hang:Able appears simple, but is an example of how the combination of innovation and lasting craftsmanship can create unique solutions.
Explore the possibilities
With Composition 6, you never get stuck in old patterns and habits; the elements can instead be reinterpreted and reorganized as your needs change.
The showcase series' unique and creative soul really comes into play in this exciting combination. This is storage for the visual and creative; without the old-fashioned limits, instead open to exploration and further development of its use - always ready to enter a new exciting context in your home.

Use the space between two shelves to create an extra mini-wardrobe in the hallway or bedroom. With Hang:able, the possibilities are expanded - especially when you also have Showcase#0 to place.
Assemble as it suits your space, and move around - Composition 6 is a flexible solution that ensures sculptural and beautiful storage.