Combination #5
€174
Description
Sustainability
The revival of the bulletin board. Out with cork and whiteboards, Composition 5 is here to meet your practical and aesthetic needs. Transform your wall and create a moodboard of both objects, clippings and images, or give your practical cath-all bulletin board a visual facelift with the Sheet bulletin board and the Ledge floating shelf. The perforated steel surface of Sheet provides a magnetic bulletin board that is light in expression and whith no visible screws and suspensions – just pure aesthetics.
Ledge is the shelf for the visual type that appreciates flowing lines and new angles. And did we mention tha Ledge is the perfect companion to Sheet? The simple look that fuses art and functionality matches a myriad of walls and styles, and with Composition 5, routine is transformed into pleasure.
We dare say that Composition 5 is going to be a favorite with you. Not only for your current needs, but in the future as well. The surface is durable and the use leaves almost no trace. Ledge and Sheet are easily cleaned with a damp cloth and can withstand bumps and blows.

Both Sheet and Ledge are made of powder coated steel which is a recyclable material. This means that the entire Composition 5 can be included in a new circular process when the time is up - by simply being delivered correctly at your local recycling centre.

Composition 5, like the other products from Anne Linde's interior collection, can be used for many many years and interpreted and reinterpreted as your needs change and expand. It is sustainability through durability - both in materials and design.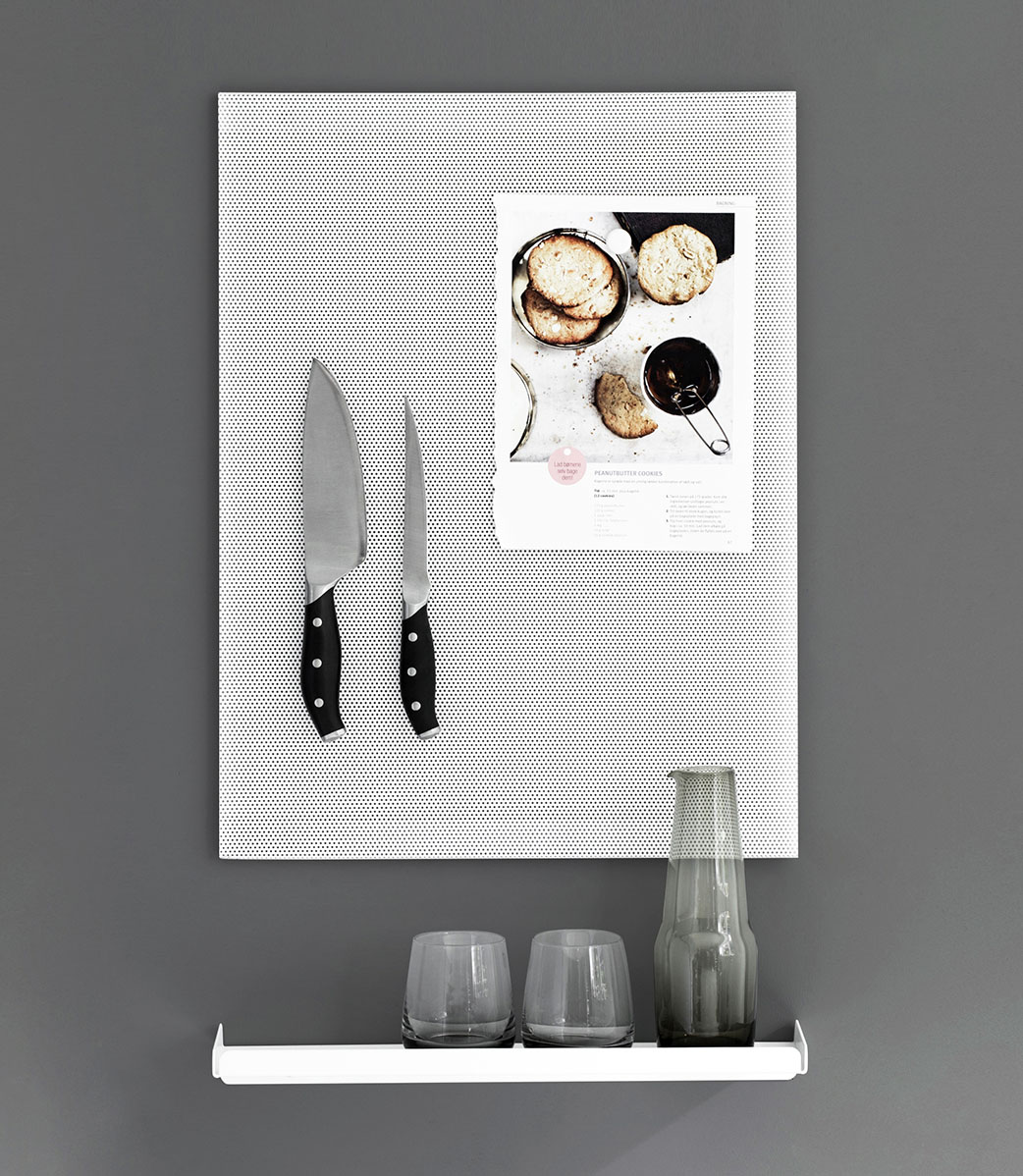 It should be no secret that Sheet and Ledge were designed to complement each other. With the same sensitivity to simple elegance, the shapes of the bulletin board and the floating shelf act as an extension of one another. Sheet plays with contrasts; The perforated pattern adds a transparent element to the otherwise solid metal. The rounded edges at the top and bottom both hide screws but also add a softness to the shape - a softness that Ledge builds on, despite the hard material.

The design adds lightness and refinement to the material. Composition 5 is grounded in innovation and durable materials.
Explore the possibilities
Forget about the conventional bulletin board and let Composition 5 with Sheet and Ledge create an inspiring framework for your projects instead. Sheet is the bulletin board for the visual and creative, where its elegance only adds to the inspiring look.Create your moodboard or organize your important papers - and with the Ledge shelf below, you always have your favorite tools right where you need them.

Sheet is an opportunity for creative expression in all its combinations - never predictable and always unique and inspiring. The Oak Ball magnets will be a beautiful addition to Composition 5 with the warm wood that contrasts with the metal's clean surface.