Combination #2
€2450
Description
Sustainability
Lucky number three – Composition 2 is the expanded version of Composition 1, where Showcase#1 gets to play freely on the wall and Hang:able adds an unexpected element to the otherwise harmonious setup. But whether you hang Composition 1 in a straight line or play with a staggered layout, the rhythmic bends in Showcase ensure a stylish result.
Composition 2 is a beautiful alternative to the classic heavy bookshelf in the living room, but has the potential to be an exciting solution in almost any room.
The clean surface of the metal shelves is gently counterbalanced by the warm wood that Hang:Able is made of. Add some of your own magic to create a sublime solution and enjoy the delicious play and sensuous depth of wood and metal together.
Composition 2 consists exclusively of powder-coated aluminum (Showcase#1) and solid oak (Hang:Able).

Both the pure wood and the powder-coated aluminum are durable and recyclable materials. The wood will age and subtly change character over the years. With the right care, it will retain its luster for many, many years, while Showcase likewise can last for many years without visible wear. The shelf can easily be recoated so that it can continue to follow your creativity and needs in the future.

In other words, Composition 2 is a solution for your interior design, storage and organization, which resists the buy-and-throw-away culture and instead inscribes itself in the timeless design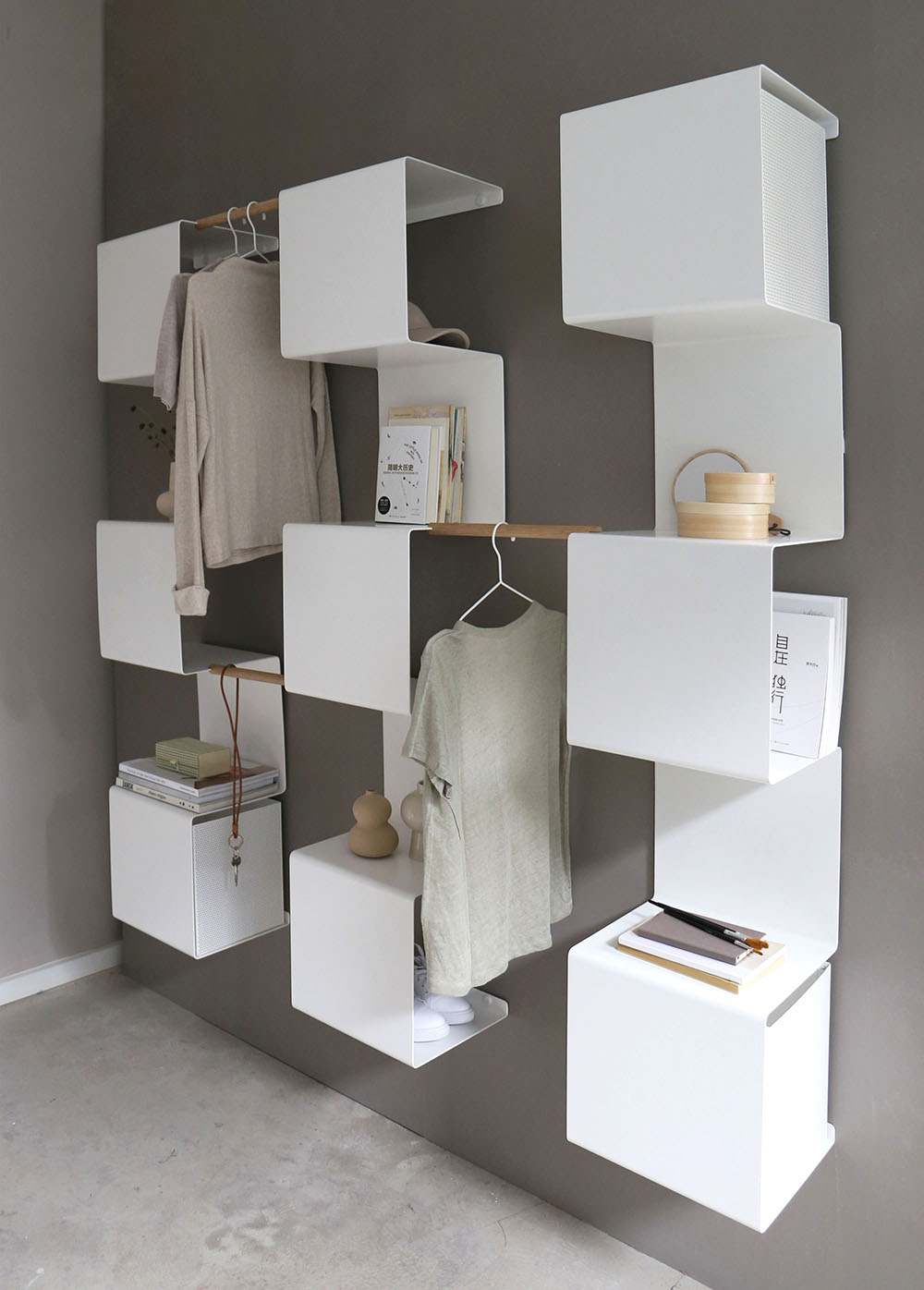 Showcase#1 is bent from one continuous piece of steel, without unsightly joints and visible suspensions. The steel makes Showcase#1 durable and recyclable.
Whether you see it as a bookcase, shelf, display cabinet or sculptural wall mount, Showcase#1 in combination with Hang:Able is furniture where practicality and functionality are anything but boring.

Hang:able has a simple cut at each end for a perfect fit between two Showcase shelves. Easy to assemble and easy to move - again and again.

The cylindrical shape of Hang:Able seems simple, but is an example of how the combination of innovation and lasting craftsmanship can create unique solutions.
Explore the opportunities
Showcase#1 was designed by Anne as an alternative to the heavy bookshelf that otherwise dominates the Danish design classics - and one should not be fooled by the light and airy look that Showcase ended up with - a single Showcase#1 can contain up to 40 books.
So imagine how much Composition 2 can hold.

In Composition 2, Showcase # 1's unique and creative soul comes into play, and with Hang:able, the possibilities for the use and shape of the shelves are expanded. Move around or expand as your needs change. Hang:able is a flexible solution that, together with Showcase#1, ensures sculptural and elegant storage and organization.

Bookcase, display wall, kitchen storage, or wardrobe - whatever your needs, Composition 2 creates a beautiful setting for your everyday life and ensures an aesthetic solution, even for the less aesthetic needs.